One of the main reasons for goods to become stale and perishable is exposure to air. The air around us is made up of a number of constituents, all of which are likely to react with the things around us. Vacuum sealed bags present the contents within a bag to be exposed to the air, thus keeping them fresh for long periods of time. With the increasing trend of packaged food, the present of vacuum pouches is becoming more and more prevalent.
Set the Bar Higher: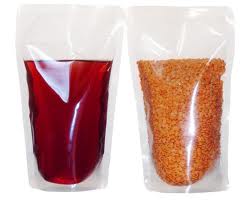 Our team work endlessly to produce high quality vacuum sealed bags to make sure our direct clients as well as their end consumers are satisfied with the product we give. Keeping in mind the use of the end client as well as the perishable nature of the goods that need to be store, all vacuum food bags are lined with either cellophane or aluminum. Both of these do not react with the contents inside and thus ensure sustainability for a long time.
Vacuum pouches are also made as stand-alone bags to make sure they can be placed easily on the shelves and would be able to attract consumers to your products. The vacuum packaging technology used in our company ensures that the package is made well supported on all the sides and would be able to showcase your company to the potential buyers.
When buying vacuum sealed bags at High Barrier Bags, you can choose from a range of colors that the default vacuum food bags come in. You can take a vacuum pouch which is plain or just single toned and add a company sticker to the same, or you can ask our team of designers to incorporate your company logo on the vacuum food bags being manufactured.
Create Vacuum:
We, at High Barrier Bags, wishes to create a vacuum in the market standing as a result of which we would be able to attain maximum share using their vacuum packaging protocols. If you are looking for vacuum pouches for your products, allow us to be of aid so we can give you best quality and highest amount of satisfaction.
This article comes from highbarrierbags edit released